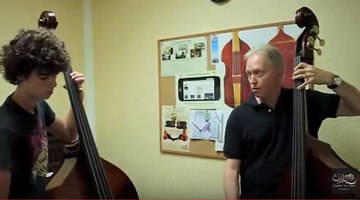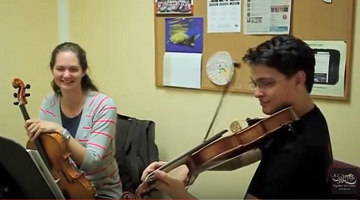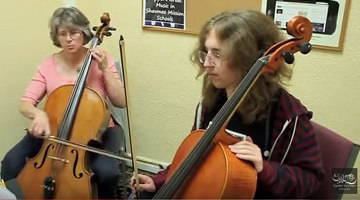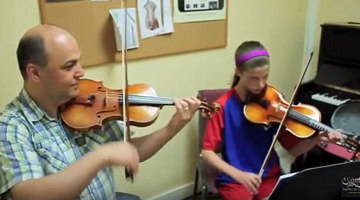 Come Take Lessons In Our Conservatory!


Private lessons are available 6 days a week, depending on teachers' schedules. We offer lessons for all levels of violin, viola, cello & bass in classical, jazz, country, Celtic and American fiddle styles. Many instructors are adept at the Suzuki method.
With the opening of the music studio area adjacent to our shop, K.C. Strings has greatly increased the opportunity for individual and small group lessons.
K.C. Strings studio offers private lessons as well as groups or ensembles with excellent instructors for all ages and levels of string instrument students. Our studio is adjacent to the shop. We're located right off I-35 and Johnson Drive in Merriam, KS, easily accessed from downtown Kansas City, Mission, Shawnee, Lenexa, Olathe, Leawood and Overland Park in Johnson County, Kansas City, KS in Wyandotte County, as well as Parkville, Gladstone, and North Kansas City, MO.
• Highly qualified teachers who are experienced with all levels of students and who are also active performers.
• Lesson times are Monday through Thursday from 11 a.m. to 8 p.m., Friday from 11 a.m. to 7 p.m., Saturday from 10 a.m. to 4 p.m., closed Sunday.
• Comfortable, spacious, soundproofed lesson rooms grouped around an atrium created for ensembles and recitals.
• A convenient location close to the Merriam Town Center shops.
• Easily accessible parking and a quiet waiting area.
• Summer camps and master classes with university teachers, symphony players and performing artists.
• Most lesson fees are $30.00 per half-hour session.

If you would like more information, please call K.C. Strings at 913-677-0400.
Main School Districts & Cities Served
Missouri
Kansas
Kansas (continued)

Blue Springs
Centralia
Columbia
Independence
Lee's Summit
Liberty
North Kansas City
Park Hill
Raytown
St. Joseph

Basehor-Linwood
Belton
Blue Valley
Bonner Springs
Derby
Dodge City
Emporia
Fort Scott
Garden City
Gardner
Grandview
Junction City
Kansas City
Lansing

Lawrence
Leavenworth
Manhattan
Newton
Olathe
Overland Park
Parsons
Pittsburg
Salina
Shawnee Mission
Spring Hill
Topeka
Wichita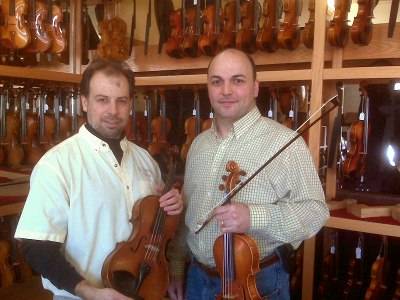 K.C. Strings' Anton Krutz (left) and Joseph Toma, (right) ...
"Anton's quality workmanship is the reason I recommend his violins to my students and fellow professional musicians."

Signed,
Joseph Toma

Keep in touch and follow us online!